Bay and Coastal Fishing
We specialize in spadefish, stripers, flounder, gray trout, tautog, red/black drum and cobia. Other species of fish, such as spot, croaker, and mackerel can also be targeted.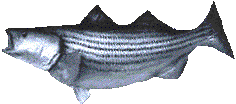 Seasonal Fishing
Bay fishing usually starts in April and runs through December, depending on the water temperature and species. From January through March, large stripers are caught off the coast of Virginia and North Carolina.